Rural messenger
William Thomas BREADMORE was born in 1855 at North Tidworth, Wiltshire. His parents were John BREADMORE and Mary Ann (formerly RICHARDSON) (nee DOLLERY) who had married the previous year. In December 1857 his father John died.
In 1871 William was listed as an Agricultural Labourer but had become a Rural Messenger by 1881.
He was still in North Tidworth ten years later but was married to Fanny Elizabeth SAUNDERS and was listed as a Grocer in the census of 1891. In the Kelly's Directory of 1895 he is listed under Bakers, in North Tidworth. In 1901 he and Fanny were living in Holdenhurst Road, Bournemouth, with a Sweet and Tobacconist Shop. William died in the Andover area in 1916. There were no known children of the marriage.
---
Andrew Young - andrew@breadmore.org - © Margaret and Andrew Young
Breadmore One-Name Study - William Thomas BREADMORE, Rural messenger - http://www.breadmore.org/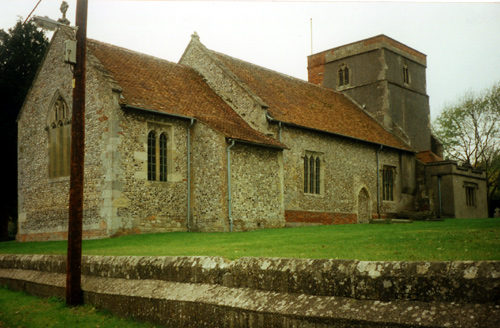 Holy Trinity Church, North Tidworth
Wiltshire