Grocer
In 1881 Lloyd BREADMORE and his father Henry both give their occupations as Grocer and Baker in the village of St Mary Bourne in Hampshire.
Henry was born in 1811 in Andover, Hampshire, the son of Valentine BREADMORE and Sarah BRACKSTONE. He married Mary Ann GALE in St. Mary Bourne in 1835 and at the time of the 1841 census he was a shoemaker in the village. Ten years later he was a master shoemaker with one apprentice. By 1861 Henry was a Chandler and Brewer and in 1871 a Brewer and Shop keeper, living at the Beer House and Shop. When Henry died in 1892 he had described himself as a 'farmer and grocer' in his Will.
Lloyd did not marry and gave his place of residence as St. Mary Bourne throughout his life. In 1901 he described himself as a Baker, Grocer and Farmer. He became churchwarden at St Mary Bourne and the base of the font in the Church was erected in his memory. When he died in 1914 he left effects to the value of £3226 9s 7d which would be £1.6 million at present day value.
---
Andrew Young - andrew@breadmore.org - © Margaret and Andrew Young
Breadmore One-Name Study - Lloyd BREADMORE, Grocer - http://www.breadmore.org/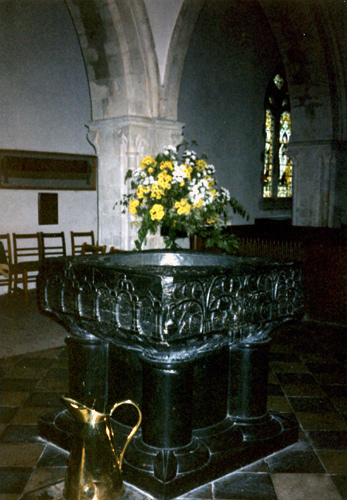 Base of font errected in
Lloyd BREADMORE's memory,
St. Mary Bourne, Hampshire